Located in the Eastern region of Nepal, the Kanchenjunga Base Camp Trek takes you to the North and South base camp of the world's 3rd highest peak, Mt. Kanchenjunga (8586 M). Mt. Kanchenjunga was regarded as the world's highest peak until the discovery of Mt. Everest and Mount K2. The name, 'Kanchenjunga' means "The five treasures of the high snow" in Tibetan. Most of the part of this trek lies within the naturally rich and diverse Kanchenjunga Conservation Area which is bordered by Sikkim, India in the East, and the Tibet Autonomous Region of China in the North.
A hidden treasure of Eastern Nepal, the trek to the Kanchenjunga Base Camp is an unforgettable off-the-beaten path and wilderness experience. The region is full of stunning landscapes and very rich in wildlife and vegetation that in April 1997, the Government of Nepal declared it as, 'A gift to the Earth' as part of WWF's Living Planet Campaign 2000. Unlike its popular fellow regions like Everest and Annapurna, it is not widely known to trekkers and has been explored by very few. And thanks to that, one can have an authentic and pristine experience here. It's been just a couple of years since this region has been receiving an increasing number of visitors from around the world.
If you are a pure adventure lover and trekking enthusiast, then the Kanchenjunga Base Camp Trek is a must-to-do thing that should be on your bucket list. It is one of the best remote treks in Nepal that has everything to offer to its visitors. The trek takes you to the north and south base camp of Mt. Kanchenjunga (8586 M) accompanied by high altitude passes, difficult and diverse terrain, exotic flora and fauna, beautiful villages, rich culture and tradition, awe-inspiring mountain sceneries, mystical valleys, thrilling suspension bridges, majestic rivers, and waterfalls, etc.
If you would like to extend your trek and make it more adventurous, you can add the Lumba Sumba Pass Trek.
Here we would like to present to you 8 reasons why you should do the Kanchenjunga Base Camp Trek for a unique lifetime experience.
1. A trek to the base of the world's 3rd highest peak Mt. Kanchenjunga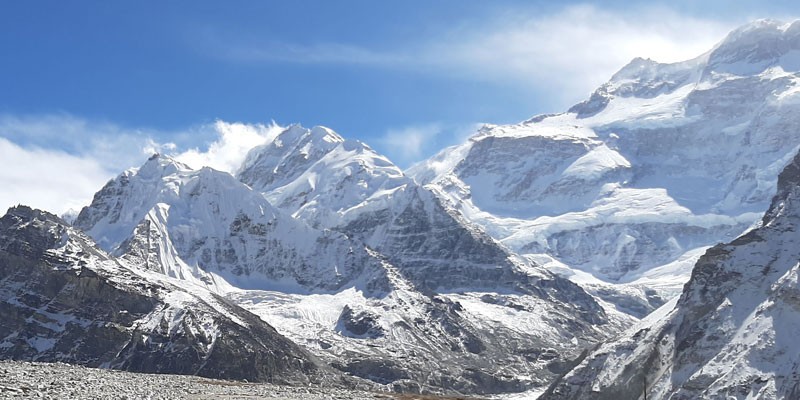 The foremost reason to trek the Kanchenjunga Base Camp is the base of Mt. Kanchenjunga. Trekking to the base of the world's 3rd highest peak is surely a kind of achievement. The feeling that one does have while doing so is truly special and mesmerizing. And for many people, it is not less than reaching the summit of the 3rd highest peak because not everyone is a mountaineer. The trek takes you to the north base camp of Mt. Kanchenjunga also known as Pangpema (5140 M) and a viewpoint near the south base camp known as Oktang (4740 M). The view of Mt. Kanchenjunga and several other mountains from these two places is simply outstanding.
2. A remote and less explored region with just a handful of visitors
Kanchenjunga Base Camp Trek lies in the little-known unexplored region of the Eastern Himalayas of Nepal. It has remained in the shadow of its popular fellow regions like the Annapurna and Everest. Despite being opened to the outside world 3 decades ago, the number of visitors remained very low. The number has risen quite in the last couple of years. But it is still very little compared in contrast to the other popular regions. As a result, the region is still remote and pristine giving visitors more freedom to explore. So, if you are one of those who loves to have an off-the-beaten-path experience, the Kanchenjunga Base Camp Trek is a highly recommended one.
3. Jaw-dropping mountain sceneries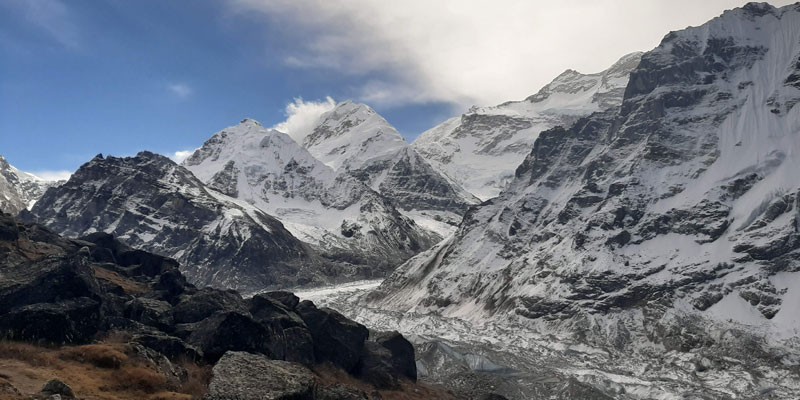 The views of the majestic snow-capped mountains on this trek are breathtaking. During the trek, you will be rewarded with splendid mountain sceneries including the world's 3rd highest peak, Mt. Kanchenjunga which is a visual amusement to the eyes. Some of the best viewpoints on this trek are North Base Camp (Pang Pema), South Base Camp (Oktang), Mirgin La Pass, Sele Le Pass, etc.
4. Diverse wildlife and vegetation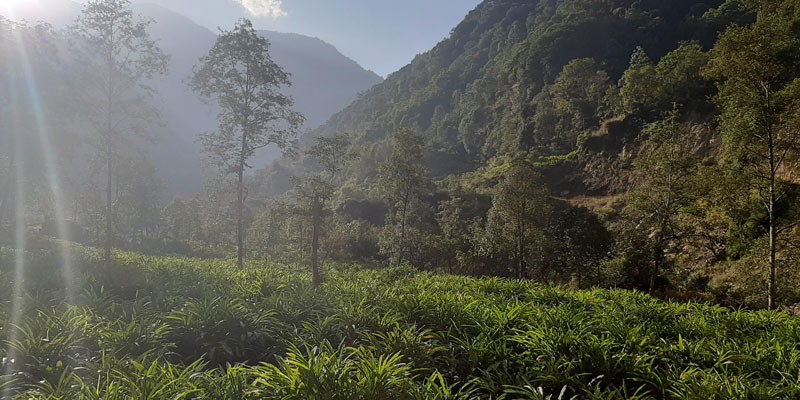 The Kanchenjunga region is home to some rare and endangered species like Snow Leopard and Red Panda. In this region, four Snow Leopards have collared between 2013-2020 for their study and monitoring. Other species of animals and birds include Himalayan White Wolf, Musk Deer, Asian Black Bear, Blue Sheep, Golden-Breasted Fulvetta, Snow Cock, Blood Pheasant, Red-Billed Chough, etc. Blue Sheep can be frequently seen along the trail.
Similarly, the region hosts a wide variety of plant species. Sub-tropical evergreen forests and lower temperate forests are found in lower altitudes. Deciduous Oaks, Maples, Laurels, Birches, Firs, Magnolias, Junipers, Rhododendrons, etc are found in higher parts. If you are trekking in the springtime, you will be able to see colorful Rhododendron forests along the trail. There are more than 20 species of Rhododendron found here.
5. Rich culture and traditions of the locals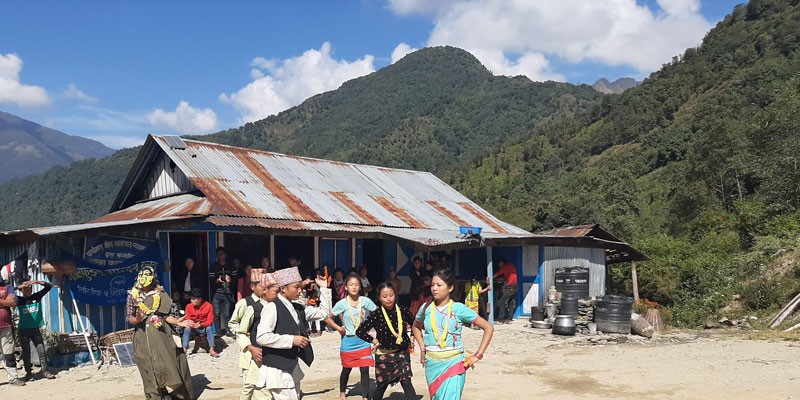 On the trek, you will be fascinated by the warm hospitality, rich culture, and traditions of the local people and their beautiful settlements. You will be able to experience and explore their daily lifestyle by interacting with them. The lower parts are inhabited mostly by Rai, Limbu, Gurung, Brahmin, and Chettri as well. The higher parts are dominated by Sherpa people who follow Tibetan Buddhism. Monasteries, mani walls, prayer flags, and chortens are commonly found here which is a vital part of their culture.
6. A trek to the restricted region
The Kanchenjunga region was declared a restricted area by the government of Nepal to protect and preserve its natural and cultural heritage. A special permit issued by the Department of Immigration of Nepal is needed to trek there. Hence, visiting a restricted region is a great privilege where one can explore the region whose natural beauty and cultural values have remained intact and pristine from outside influence for a long time.
7. Extreme adventure with high-altitude passes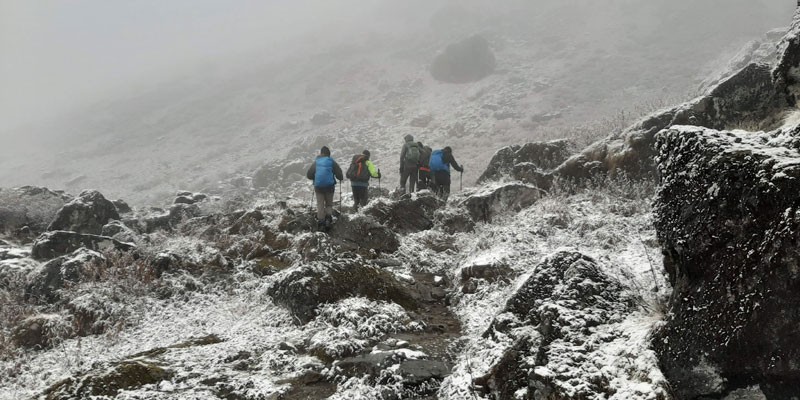 With 2 base camps and 3 high-altitude passes, the Kanchenjunga Base Camp Trek is a must-to-do trek for adventure fanatics. No wonder the trek is a difficult one filled with extreme adventure. You will need to walk on rough terrain and sleep at higher altitudes for many days. However, the mesmerizing beauty of nature and the local culture will make you forget all the difficulties.
8. Beautiful picturesque valleys and glaciers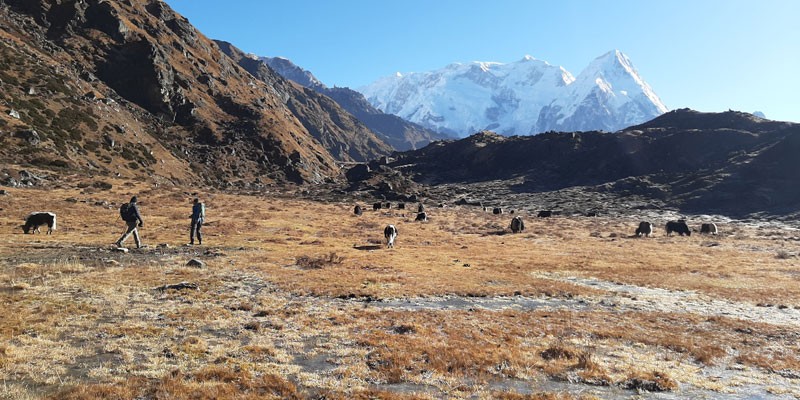 The Kanchenjunga Base Camp trek takes you to many beautiful valleys surrounded by giant hills and snowcapped mountains. Some of the most stunning valleys that you will walk through during the trek are Tamor valley, Ghunsa, Ramche, Lhonak, Khambachen, etc. You will pass by huge captivating glaciers like Nyukla, Kumbhakarna, Ramdung, Kanchenjunga, Yalung, Tso, etc.
Kanchenjunga Base Camp Trek Itinerary
Day 01: Arrive in Kathmandu (1350 M) and transfer to the hotel
Day 02: Kathmandu Valley tour and trek preparation
Day 03: Fly to Bhadrapur and drive to Phidim
Day 04: Drive to Chiruwa (1270 M) via Taplejung
Day 05: Trek to Sekathum (1660 M)
Day 06: Trek to Amjilasa (2495 M)
Day 07: Trek to Ghyabla (2730 M)
Day 08: Trek to Ghunsa (3425 M)
Day 09: Acclimatization Day
Day 10: Trek to Khambachen (4145 M)
Day 11: Trek to Lhonak (4792 M)
Day 12: Day Explore to Pangpema Base Camp (5140 M) and return to Lhonak
Day 13: Trek to Ghunsa (3425 M)
Day 14: Trek to Selele (4200 M)
Day 15: Trek to Tseram (3870 M) via Mirgin La (4645 M) and Sinelapche La Pass (4645)
Day 16: Day trip to Oktang(4740 M) viewpoint via Ramche (4610 M) and
return back
Day 17: Trek to Tortong (2980 M)
Day 18: Trek to Yamphudim (2080 M)
Day 19: Trek to Khebang (1915 M)
Day 20: Trek to Hapu Khola
Day 21: Drive to Ilam Bazar
Day 22: Drive to Bhadrapur then fly to Kathmandu (1350 M)
Day 23: Extra day security in case of flight cancellation due to bad weather
Day 24: Final Departure
Transportation for the Kanchenjunga Base Camp Trek
The trek starts from Chiruwa. To reach there, you will need to take a 45 minutes flight to Bhadrapur from Kathmandu and then drive to Phidim for 5-6 hours where you will spend the night. The next morning you will drive to Taplejung for 4 hours in a private Jeep. From there you will take another local Jeep and finally drive to Chiruwa which takes about 3 hours.
The trek ends at Mitlung. From there, you will drive to Taplejung in a local Jeep. Then you will take a private Jeep and continue to Ilam which takes about 6-7 hours. The next morning you will drive to Bhadrapur for 5 hours on a private Jeep and take the flight back to Kathmandu.
Flight and Transportation Costs
Kathmandu-Bhadrapur round flight cost(2 times)- 278 USD per person
Bhadrapur-Taplejung private Jeep cost- 190 USD
Bhadrapur to Taplejung local bus cost- 8-10 USD per person
Taplejung-Chiruwa private Jeep cost- 100 USD
Mitlung-Taplejung local Jeep cost- 80 USD
Taplejung-Bhadrapur via Ilam private Jeep cost-190 USD
Kanchenjunga Base Camp Trek Guide and Porter Cost
French Guide cost per day- 35 to 50 USD
English Guide cost per day- 25 to 35USD
Porter cost per day- 20 to 25 USD

Permits and paperwork for the Kanchenjunga Base Camp Trek
As the region is restricted, you will need to get a restricted area permit from the Department of Immigration. To get to permit, there must be at least two-person and a government-certified trekking agency. You will need 3 weeks restricted are permit. You will need the KCAP (Kanchenjunga Conservation Area Project) permit as well. The trekking agency that is providing the service to you will do all the permits and papers works.
Permit cost
The restricted area permit for Kanchenjunga Base Camp Trek costs 20 USD per person for a week. Hence, for 3 weeks it will be 60 USD per person.
Kanchenjunga Conservation Area Project (KCAP) permit costs NPR 2000 per person.
Food and Accommodation on the Kanchenjunga Base Camp Trek
The Kanchenjunga Base Camp Trek has become a full-on teahouse trek recently. Teahouses and lodges are available in limited numbers along the route providing all the food and accommodation services. The services are mostly basic. Construction of new lodges and teahouses is going on. Still, we recommend a group size maximum of 10 people for a better experience.
Toilets are mostly squat-down types located indoors and shared but are located outside as well in many places. Few places have a western-style toilet or sitting toilet as well.

Hot shower using electric gas geezer is only available at Ghunsa which costs around 4 USD. A hot bucket shower is available everywhere. It cost around 2 USD per bucket. The cold shower is free.
Drinking Water on the Kanchenjunga Base Camp Trek
Tap water and other natural sources are available along the routes which you can drink by using a water purifier, filter, or pills. Mineral water is available in plastic bottles and can be bought in hotels, teahouses, and lodges. However, we encourage you to buy less plastic bottled mineral water and use more natural and tap-sourced water for environmental concerns.
Electricity, Telephone, and Internet on the Kanchenjunga Base Camp Trek
Electricity is available only in Taplejung, Chiruwa, Taplethok, and Ghunsa. Bringing a solar charger will be very helpful.
The phone network works in most places except Khambachen, Lhonak, Pangpema, Tseram, Ramche, and Tortong. We recommend you buy an NTC sim card as it has better coverage in higher areas.
Wi-Fi service is available in Phidim and Taplejung. In Ghunsa, there is a Wi-Fi facility in a community health post that you can use by paying a certain amount. Wi-Fi in these regions is expected to break down often during harsh weather.
Kanchenjunga Base Camp Trek Difficulty
The Kanchenjunga Base Camp Trek is physically demanding. You will have to walk to places that are above 5000 meters and cross numerous high-altitude passes. There is a possibility of getting high altitude sickness in altitudes like this. If you have already done treks like Everest Base Camp, and Annapurna Circuit then it will not be a problem.
For people with no previous experience of trekking, taking cardio exercises like cycling, running, swimming, hiking, etc. for at least a month before trekking in Nepal is highly recommended.
While on the trek, you will do the acclimatization process where you will learn to acclimatize to the increasing altitudes day by day.
Know more about altitude sickness
Best time to do the Kanchenjunga Base Camp Trek
The ideal time to do the trek in this region is in the Autumn(September-November) and Spring ( March-May) seasons. The weather is moderate during these times. The number of trekkers is also high in this period.
During the autumn, the skies are clear providing crystal clear mountain sceneries. Festivals like Dashain and Tihar are celebrated in these periods adding extra uniqueness to the trek.

In the springtime, trails are decorated with colorful Rhododendron forests. The number of trekkers is a little less compared to the Autumn season. The Nepalese new year falls at this time. The skies are not as clear as during Autumn and rainfall can be expected sometimes.

If you would like to avoid the crowd, you can trek in the monsoon and winter seasons.

During the monsoon, trails look beautiful with lush green forests. But the roads and trails are slippery with leeches. Mountain sceneries will be difficult to see as the skies are covered with clouds most of the time.

Trekking in the winter provides beautiful mountain scenery. However, the heavy amount of snowfall can make it impossible to trek in higher places and passes. You may need to return halfway or cancel the trek for safety concerns. And lodges and teahouses are closed down due to extreme cold.
Have any more questions about the Kanchenjunga Base Camp Trek? Please let us know. We will be delighted to answer all of your questions.